New Wagoneer For Sale & Lease in Santa Fe, NM
Upgrade to Better Performance and Style with a New Wagoneer or Grand Wagoneer in Santa Fe
Take things to the next level with the brand-new Wagoneer and Grand Wagoneer. These large SUVs combine exceptional capabilities with premium styling and tons of space, resulting in vehicles ready for any road trip or outdoor adventure. If you're prepared to experience the difference, Lithia Chrysler Dodge Jeep RAM FIAT of Santa Fe is the place to visit.
Dynamic Performers
Whether you choose the new Wagoneer or Grand Wagoneer, you can count on only the most thrilling driving experiences each day. Powering the new Wagoneer is a 5.7-liter V8 paired with a 48-volt mild-hybrid system. This unique setup delivers an impressive 392 horsepower and 404 pound-feet of torque. The new Grand Wagoneer has even more power under its hood, which comes from the 6.4-liter V8 that generates 471 horsepower. Plus, both models can handle off-roading with ease.
Upscale Styling and Ample Space
These new SUVs showcase stunning interiors that you'll love spending time inside of, regardless of how far the next destination is. While the Wagoneer will blow you away with its classy interior, you can expect even more from the Grand Wagoneer as it comes standard with Nappa leather upholstery and even more high-end styling details. The best part is that both SUVs provide copious amounts of passenger and cargo space, ensuring you always have room for your people and miscellaneous items.
Some Differences Between the Wagoneer and Grand Wagoneer
One of the major differences between the new Wagoneer and Grand Wagoneer is available technology. The Grand Wagoneer brings a host of digital screens to the table, while the Wagoneer offers more standard options. Customers are going to find impressive V8 engines in both these SUVs as well. However, the engine in the Grand Wagoneer is tuned to give you a bit more power.
Ask Us About Starting a Custom Order
* Indicates a required field
Breaking Down the New Wagoneer Trim Levels
With four trims available, the Jeep Wagoneer has a model to meet any driver's needs. With good cabin space, decent cargo room, and seating for up to eight passengers, this is an SUV you don't want to pass up. At our Santa Fe dealership, we sell all the latest Wagoneer trims and want to discuss what this model offers.
Wagoneer Base: Starts at $60,995
At the start of this impressive lineup, you have the Wagoneer Series I. There are so many standard highlights to discuss with this SUV, including the full LED exterior lighting. These stunning fixtures help the new Wagoneer Series I both look and perform better during any drive. You can also find heated and ventilated front leather-trimmed seats in this exciting model.
Wagoneer Series II: Starts at $67,080
Wagoneer Series II Carbide: Starts at $70,775
Then, we have the Wagoneer Series II. Throughout the exterior of this trim level, you will get some stand-out details. The wheels are upgraded to a stunning 20-inch silver-litho option. Customers will also love all the additional technology added to the Series II. This tech package includes wireless phone charging to keep your Wagoneer clear of messy cords.
Wagoneer Series III: Starts at $73,220
The Wagoneer Series III is going to outperform every expectation you may have. This impressive SUV offers a Quadra-Lift Air Suspension system. That allows your Wagoneer Series III to give you one of the smoothest drives you will ever have. There is also a premium head-up display in the new Series III that will project driving information straight onto the windshield.
New Grand Wagoneer Trim Levels
The Grand Wagoneer is an innovative SUV that will blow you away with its technology and design. Take a look at the Grand Wagoneer trim levels and what they have to offer.
Grand Wagoneer Series I: Starts at $87,995
Every inch of the new Grand Wagoneer Series I is meant to impress. The exterior offers a gloss black painted roof so that you get the premium look on every side. The front and rear fascia boast the impressive design that this new SUV is known so well for.
Grand Wagoneer Series II: Starts at $95,090
The new Grand Wagoneer Series II ups the design with interior and exterior additions. Throughout the cabin, you get some impressive materials, including Palermo leather. These leather-trimmed seats can even massage you while on the way to work. The exterior gets a set of 22-inch polished wheels to keep up with that interior quality.
Grand Wagoneer Obsidian: Starts at $102,585
The new Grand Wagoneer Obsidian is an SUV that stands out from the rest. This trim level adds a black onyx color throughout both the outside and inside of the Grand Wagoneer. You also get exclusive badging to further that feeling. There's even a sleek black suede headliner in this new Grand Wagoneer.
Grand Wagoneer Series III: Starts at $107,995
This last incredible trim adds a range of technologies and features to your drive. A class-exclusive 10.25-inch interactive display can be found in front of the passenger seat. A McIntosh entertainment system can even be found in this trim, bringing your media to life.
Highlights of the Wagoneer L
The 2023 Wagoneer L is a new stretched version of the Wagoneer model. With mechanical parts borrowed from a Ram 1500, the Wagoneer is a three-row utility vehicle with a long wheelbase and a more spacious cargo area.
A new turbocharged 3.0-liter six-cylinder engine is now standard, producing 420 horsepower and 468 pounds of torque. With this new engine, the Wagoneer L also receives better fuel economy, as it now gets an estimated 19 miles per gallon combined. And those concerned about this model's towing capacity need not worry, as this model can also tow upwards of 10,000 pounds.
As for this model's features, each trim has a 10.3-inch display and a 10.1 in. touchscreen. There's also an optional pair of 10.3-inch rear-seat entertainment displays that are powered by Amazon Fire TV. Safety features for this model include a standard blind-spot monitor, automatic emergency braking, and front and rear parking sensors.
Wagoneer & Grand Wagoneer L Trim Levels
Wagoneer L Series I: $62,495 (4WD: $65,495)
Wagoneer L Series II: $68,080 (4WD: $71,080)
Wagoneer L Series III: $74,220 (4WD: $77,220)
Grand Wagoneer L Series I: $91,495
Grand Wagoneer L Series II: $98,090
Grand Wagoneer L Series III: $110,995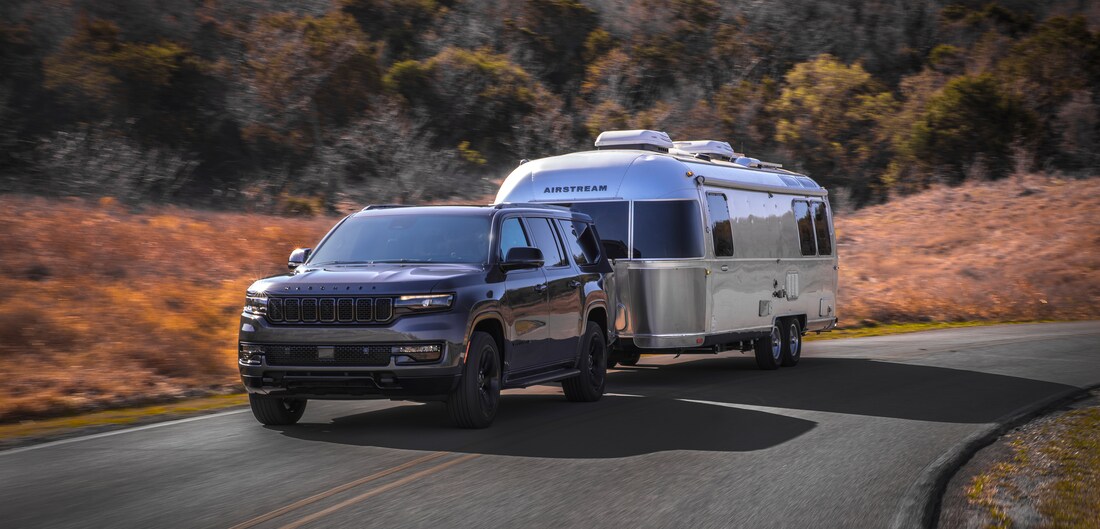 Frequently Asked Questions About the Wagoneer & Grand Wagoneer
How many seats do the Wagoneer and Grand Wagoneer have?
Each model can hold up to eight passengers.
Which Wagoneer has captain's seats?
Every Wagoneer model can be outfitted with captain chairs.
How much can a Wagoneer or Grand Wagoneer tow?
The Wagoneer can tow upwards of 10,000 pounds. While the Grand Wagoneer can tow around 9,860 pounds.
Which Wagoneer has air suspension?
Only the Grand Wagoneer offers air suspension.
Can I custom order a Wagoneer or Grand Wagoneer?
Yes. Every Jeep model can be custom ordered from our website.

How can we help?
* Indicates a required field